Noosa is paradise on the beach with friendly people and a relaxed lifestyle. If you are lucky you can see koalas during your morning walk to school and surf in the warm ocean with dolphins during the afternoon. Noosa has one of the best climates in Australia and is one of Australia's most loved holiday destinations. It's a 100% beach lifestyle; sun, surf and golden sands. There are lots of tourists which means there are also lots of work opportunities in Noosa's many cafes and restaurant. Noosa is also a great place for demi-pair work.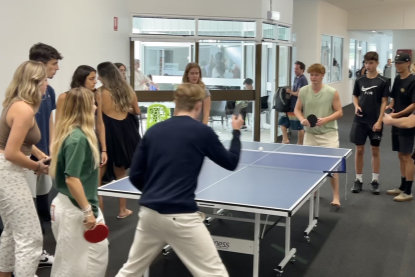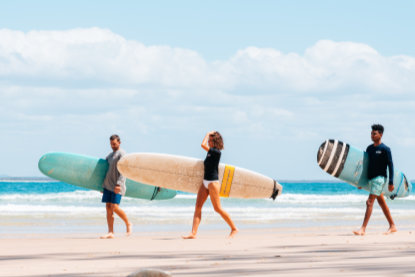 Lexis English | Noosa
Lexis Noosa is in a modern building that's just a five-minute walk from one of Australia's most loved beaches. It's a medium size school. You can study a choice of general and academic English programs for all levels, including the Cambridge exams FCE, CAE and the CPE, and even take the popular English plus surf option. The area is popular with tourists so there are lots of work opportunities. Noosa has a population of about 55,000.
where is it?
Noosa is 140kms north of Brisbane not too far from Fraser Island and the southern end of the Great Barrier Reef .
Lexis Noosa is situated in the heart of Noosa Heads, within walking distance of the town's beautiful beaches, shops, restaurants, and other amenities.
where can i sleep?
Homestay: single, share, half-board or bed and breakfast.
Homestays for vegans and the gluten-free
4 student houses
what can i study?
General English (full-time and part-time)
Cambridge exam preparation (FCE, CAE and CPE)
IELTS exam preparation
English plus Surfing
Private training
English plus demi-pair
good to know..
Capacity: 230 students
Average clas size: 12
18 classrooms
Two multimedia computer suites with free internet
Free wi-fi access both indoors and out
Student support desk providing advice about accommodation, visa issues, healthcare, part-time jobs and much more
Student lounge with large screen television, regular movie screenings, Wii and Playstation
Fully-equipped student kitchen with free tea and coffee
Large, sun-filled courtyard with café style furniture, the perfect place to relax between classes
Choice of weekday afternoon seminars and activities, including sports and excursions
Self-access library with extensive reading, writing, listening and speaking practice resources for all levels
Great evening social program including pub night, weekly surf club social evening & karaoke and our "Lexis After Dark" Thursday night student party
"Lexis Work Shop" program to provide you with all the skills you need to maximize your part-time employment opportunities
Work-Study
The Lexis Work Shop program will provide you with all the skills you need to maximise your part-time employment opportunities. Noosa is a busy tourist centre with many cafes and restaurants, which are always on the look-out for good part-time staff.
Activities
A great outdoor lifestyle with swimming, beach volleyball, river cruises, surfing, kite-boarding, kayaking and sailing right across the street from school, extensive cycle paths, hiking trails and international triathlon and surfing competitions. The school runs regular weekend excursions to nearby tourist destinations.
The Language House likes
We all like sunshine. Noosa has lots of it. Every day. Noosa is a great location if you want to experience the Australian beach lifestyle. It's the perfect choice if you like to be outdoors in a t-shirt all day with the sand between your toes.