English courses in Geneva
Learn. Improve. Master.

5 stars ***** (79 Google reviews) Read more
Is English your cup of tea? We will help you find your voice and develop an English which is confident, robust and stress-free. We are an English only school. Our courses are challenging and enjoyable. Most of our clients are professionals.

Communicate with confidence and fluency. Your course will focus on you and your objectives.

Our courses are challenging, intensive and rewarding. The coffee and tea is good too.
Choose your course: face-to face in our school, in-company or on-line, or a mix. We are flexible. We understand you have a busy life. Your course will be designed to meet your budget, objectives and availability. Read more about our in-company professional English courses.

We are all trainers at The Language House. Our director and nine trainers are all mature, experienced teachers with backgrounds in marketing, sales, journalism, academia, theatre, cinema, HR and digital management.
Subscribe to our English blog published by Le Temps - Et Maintenant in English. There are almost 120 blogs to read.
Contact us here or call +41 22 321 52 63.
The Language House offers three types of English language training :
1. Face to face lessons (in our school in Rue du Stand) private and semi-private, maximum 2 students in our large training rooms + personalised online platform (100 hours of self-study)

2. In-company lessons (in your company) private and small group, maximum 4 + personalised online platform (100 hours of self-study)
3. Virtual classroom (online lessons) on Zoom, private and small group, maximum size 5 + personalised online platform (100 hours of self-study).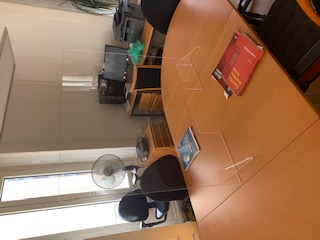 Client comments (English courses in Geneva):
'I am a training manager at Caterpillar and my objective is to improve my speaking and writing skills. I am learning a lot with The Language House and I am really enjoying my course. I am impressed by the professionalism, kindness and the organization of my teacher who implemented online lessons due to the coronavirus restriction. Many thanks. I highly recommend my trainer Sian and The Language House!'
- Yoann Avrillier, Caterpillar Geneva
'I really enjoy my sessions with The Language House. It is not about only learning English. It's about feeling at ease, confident, using idioms at the right time and enjoy another language without overthinking. It is about starting thinking in English and not literally translating anymore. I am looking forward to start my public speaking sessions with Neal! Do not hesitate to get the ball rolling. You'll be in a safe pair of hands.'
- Yolanda Bornand, Global Head of Marketing and Communications, Zedra Geneva
'I really enjoy my English lessons with The Language House. They are interesting, fun and lively and I get to work on my spoken English. I feel much more comfortable speaking English. I know I still make mistakes. But if I have to socialise in English or moderate a forum in English, I don't have the panic and stress I had before. I actually look forward to using my English when I have the opportunity.'
- Stéphane Benoit-Godet, rédacteur en chef L'Illustré
'The online lessons are really effective and most importantly allow me to continue to practise, consolidate and improve my English. I get instant feedback and we can share documents and do exercises together. It's very similar to a normal lesson. Communicating well in English is a long term project. It's not like learning how to ride a bike for the first time and then having this skill for the rest of your life. English needs regular work. Otherwise you lose it. I am thankful for my lessons at The Language House both online and offline.'
- Philippe Leyat, lawyer
Our courses
We offer a wide variety of private and small group courses (read more on the right-hand column of this page):
Professional English
General and professional English
IELTS exam preparation
English for university and academia
Cambridge exam preparation B2, C1 and C2
Writing skills

English for leaders and decision-makers
English for travel and pleasure
Public-speaking and high impact presentations
English for the hospitality industry
English for health professionals
English for journalists
Preparation for job interviews
Social and conversation English
New courses 2021:
High Impact Presentations
–
read more
Public Speaking
-
read more
Our clients come from all walks of life: lawyers, bankers, psychologists, midwives, entrepreneurs, human rights advocates, accountants, public servants, academics, project managers, company directors, students, restauranteurs, relationships managers, divers, ski instructors, real estate directors, journalists, editors, traders and IT staff.
Here are some of the types of courses we teach:
Use English with greater confidence in your workplace. Your English course may include presentations, negotiations, using the telephone, writing better emails, socialising in English. Speak with your clients with confidence. Improve your English quickly. No more stress.
I would like to thank you again for the English training we had together. The aim for me was to improve my English and to feel more comfortable when I speak. This goal was fully completed. I have really appreciated the interactivity in the classroom with the role plays and way we approached different topics and subjects. You always found the right word to motivate us. You definitively focus on your students and you adapt your training according to their needs. You are definitively the best teacher I have ever had.
Valérie Touron, Private banking, Lausanne
My professional skills were in demand but my career options were limited by my lack of English communication skills. I chose The Language House as my English language partner. It has been a most rewarding and successful relationship and much more than just learning to communicate confidently and fluently in English. It has opened doors to a new culture, information, ideas, humour, literature, travel and professional relationships. The Language House has organised language courses for me in Geneva and immersion programmes in English-speaking countries. I have studied in Kensington in London, in Canterbury and in the countryside of Wales. Each course has been superbly organised, and the quality of training has exceeded my expectations. However, my most enjoyable courses have been English for Lunch here in Geneva – private courses in English over lunch with The Language House. I do not hesitate in recommending the services of The Language House.
Stéphane Tanner, CEO Tanner Conseil Geneva
Private English lessons in Geneva
An English course based on your individual goals. This is the fast track method to increase your confidence and fluency. The trainer focuses 100% on you. We begin with a detailed needs analysis and then design a training programme especially for you.
I enjoy my English lessons with The Language House. My trainer is friendly and amusing. He quickly grasped my needs and adapts the lesson content accordingly. I have learnt not only much vocabulary, but also and importantly, many English cultural references. I have gained more confidence in speaking English and I hope I will be able to add it as a working language soon.
Dan Wang, freelance interpreter Geneva
English courses for companies
Do you and your colleagues need to improve their Business English communication skills? We offer courses tailored to the needs of your company. Do you need to work on making presentations, writing financial reports, using the telephone or dealing with customers? Courses can be in-company or in our offices.
Après plus d'une année de cours, sur le modèle du business lunch, les participants sont unanimes: la méthode d'enseignement répond totalement à nos besoins et à nos attentes. Nous nous sentons plus à l'aise, nous avons réussi à passer outre certaines réticences émotionnelles de nous exprimer en anglais, nous avons eu l'occasion de remettre en pratique nos connaissances scolaires et les adapter à un usage plus professionnel de la langue. Fort de cette expérience très positive, nous avons renouvelé notre confiance à The Language House pour toute l'année 2017.
Yes, we highly recommend The Language House as an ideal solution for companies that need to improve their English communication skills.
Jean-Jacques Morard, CEO de Rham SA Lausanne
E
nglish conversation courses
Activate your speaking. Empower your communication. Relax. Express yourself in English with a smile on your face. Discuss a wide variety of subjects with ease. We will help you correct and strengthen your English and become a more powerful speaker.
I really enjoy my English lessons with The Language House. They are interesting, fun and lively and I get to work on my spoken English. I feel much more comfortable speaking English. I know I still make mistakes. But if I have to socialise in English or moderate a forum in English, I don't have the panic and stress I had before. I actually look forward to using my English when I have the opportunity.
Stéphane Benoit-Godet, rédacteur en chef L'Illustre
English for Lunch courses
A private English course 1:1 in a restaurant for 90 minutes once per week; ideal for professional people with a relatively good English level who need to keep their English well-exercised. Clients receive feedback by email after each lunch lessons. Read some comments from our English for Lunch clients here. A great option for busy professionals.
I would like to tell you how much I appreciated our English for Lunch lessons over the past three years. I really enjoyed the lunches and I made a lot of progress. I am more comfortable with my English in work and social situations. I never imagined when we started that I would become fluent in English and that I could manage meetings and video conferences in English and follow English language films. It's fantastic.
Bertrand Pasche, director Technew SA Geneva
English for Lunch is the most enjoyable and effective form of English training I have taken. I find it an excellent method to practice and perform in English and increase my language confidence and fluency. It is a space in my busy life to enjoy the richness and complexity of the English language and exchange ideas and discuss a wide range of subjects.
Laurence de Cecco, CEO director Blossom communications and marketing Geneva
English for Lunch helps me use English with greater fluency and confidence. The courses are tailor-made and carefully oriented to my needs. The feedback from each lunch helps me to correct my mistakes and reinforces new language structures, vocabulary, idioms and expressions. The 'real-life' lunch environment is much more interesting and lively than a classroom.
John Howells, director UBS Private Banking Geneva
What do Scots have in common with pirates? Jamie Oliver with the Swiss family Robinson? How are Eddie Izard and Louis C.K related? And Skippy the Kangaroo with The Clockword Orange? N-words with bees? National anthems and Australian morals? Road rage and lyrebirds? These are some of the ingredients we used to compose the menu of the English for Lunch, one and half hour, every week, under Garry's attentive, curious and supporting supervision. I improve each time and even if I'm still not a chef, hopefully I'll become at least a decent cook…and not a fat lady.
Daniela Bertossa, psychologist Geneva
Immersion courses
Are you between jobs? Is your company officially now an 'English-speaking' Company? Do you need an intensive boost to your English? We can offer up to 12 hours of course per week, plus lots of homework. Your English will be up and running in no time. We also organise intensive full-time courses in the UK, USA, Canada, Australia, Malta and Ireland.
Cambridge B2 and C1 exam preparation
Mini groups (max 3 students) Geneva
If you have a B2 level and would like to certify it with an internationally recognised exam, then our First Certificate in English (FCE) exam course is for you. This exam is ideal for Swiss primary school teachers who need a B2 certificate.
If your level is closer to C1 we recommend our Certificate of Advanced English C1 exam courses. This exam is ideal for students applying for entry into L'École hôtelière de Lausanne.
The Cambridge exams will help you improve all aspects of your English—reading, writing, listening and speaking. These exams are well recognized in Switzerland and around the world. There are exams for most English levels.
I strongly recommend The Language House for people that need to pass an academic diploma and for people who want to improve their professional English. I prepared the CAE exam with Garry. Not only did my trainer prepare me well for this exam (which I passed) but his background as a journalist made the classes very interesting to follow!
- GR Odon, MBA
Most Cambridge exams are offered all year round in Geneva and Vaud.
For more information contact Cambridge English Examinations:
Geneva: https://cambridgeenglish-geneva.ch/dates
Vaud: https://cambridgeenglish-geneva.ch/dates
If you want to study in an English-speaking university or the Ecole Hôtelière de Lausanne you will need an exam like the IELTS.
IELTS is the world's leading exam for future university students who speak English as a second language. It's also an excellent exam to improve your English.
IELTS preparation courses in Geneva: Read more here
I took a short and intensive IELTS exam preparation course with The Language House in order to be accepted for my Masters at a university in the Netherlands. My teacher Garry was 100 per cent focused on the skills I needed to get the best result. He was always available to answer my questions and correct my work and suggest improvements. He knew how to guide and push me to get my English to the next level. After two months of hard work and lots of practice tests, I successfully passed my exam with an overall band of 7! It was better than I had hoped for. I strongly recommend The Language House for anyone wanting to improving their English and at the same time enjoy a friendly atmosphere for studying.

Max Fuchs, Geneva, Masters student
'I found out about The Language House via Garry's blog in the newspaper Le Temps. Eager to pursue my studies in International Relations, a high level of English was essential. For four months I attended lessons with Garry and Sian in order to prepare for my IELTS. Thanks to their high-quality courses, I mastered my English and received 7.5 and was subsequently admitted to my dream Master's Degree in International and European Governance. I am grateful to have learned by their side about English and life in general. I highly recommend them for the way they teach and their dedication.'
Beatrice Jotterand, Geneva, Masters student
'I have just received a mail with my results. I received an overall score of 7.5. I got a 8.5 in reading and listening! I was not expecting that at all. My goal, which was more a hope than a goal to be perfectly honest, was to have at least 5.5 in each section and an overall of 6. I am delighted with these results and it is thanks to my two trainers Garry and Virag. You gave me very suitable tips and made my English improve extremely quickly. Honestly, when I was reasoning about transferring into another university, I thought it was just a delusion and that I would never meet the requirements to do so, notably because of English. I registered for the IELTS exam because it was good to assess my skills anyway. But now, studying abroad is starting to become a reality and it is thanks to you and I do NOT say these words to be polite. Before my first lesson with Garry, I had never spoken or written in English for more than five years and, at that time, my level was deplorable. I know that I still need to improve my English, especially speaking, but you have offered me the most beautiful - early - present for Christmas. I cannot thank you enough but THANK YOU very very much!'
Loic Remolif, Geneva, Masters student
English for job interviews
A job interview in English? We will get you ready to talk about yourself and your experience with fluency and confidence. So, why are you the right person for the job?
I just wanted to let you know that I am starting today at P&G!! My two interviews in English went really well. Thank you so much for your great advice. These interviews were exactly on the same line as yours.
Salomé Borecka, Proctor and Gamble Geneva
I am writing to tell you that I got the job of risk specialist at the bank. Thank you for the excellent job interview preparation that we did in English.
Halise Acar, Credit Europe Bank Suisse SA Geneva
English for writing
We run specialized writing courses for companies and individuals that allow them to communicate simply and effectively. We can help you with different styles of writing; emails, press releases, reports, websites, CVs, creative writing etc. Our writing lessons are given by our director Garry Littman who writes a regular blog for Le Temps newspaper. You can read and subscribe to the blog here - Et Maintenant in EnglishEt Maintenant in English.
Most of our writing classes are private classes with lots of writing and reading exercises.
I have loved learning and speaking English since I was a kid. But learning with Garry is really taking it to the next level. It is the highlight of my Friday mornings! I reached out to The Language House to improve my writing skills, and I have enjoyed every session since. Whether we look at dry grammatical exercises, play critics to blogs or seek ideas to write our own piece, Garry manages to make it easy and fun at the same time. I have been able to apply learning right away in my daily activities and already see progress in just a few sessions. I highly recommend Garry Littman and The Language House to anyone looking to improve their English proficiency.
- Valerie Peyre, Strategy Director World Economic Forum
Thank you for conducting the Business English writing classes for our team. The sessions were very well prepared and they focused on the most important issues for us. The use of our own writing samples made all comments practical for our immediate use. You adjusted the teaching very well to the skill level of the class and your friendly approach made the comments easy to accept.
- Kirsi Porter, team leader, Koch Fertilizer Trading SARL, Geneva
English for hospitality
We have taught staff in hotels and restaurants. Develop your client service communications: warm, polite and friendly.
English for journalists
We have taught journalists and editorial staff from Bilan and Le Temps. Practise your interview technique in English. Discuss political and social trends in English. Write articles in English.
This is the second time I have turned to The Language House for English lessons. Trainer Garry Littman makes lessons challenging and enjoyable. He is the best English trainer I have had. We meet each week in a café. The coffee and English ambiance is relaxed and we laugh a lot. In our lessons we discuss a wide range of subjects from Antonioni to selfies which is both stimulating and full of interesting new English cultural references. I never thought I would say that I look forward to my English lessons.
Emmanuel Grosjean, Le Temps, Geneva
Des leçons d'anglais palpitantes comme une pièce policière –
Mon jour, c'est le vendredi. A midi pile, je quitte la rédaction du "Temps", au pas de course souvent, au grand étonnement de mes collègues. Aurais-je rendez-vous avec Isabelle Huppert? Ou Peter Brook? Ou mon psychanalyste? Non. Mieux que cela: je déjeune avec Garry Littman, mon professeur d'anglais, qui a inventé un concept idéal pour le journaliste très pris que je suis: une leçon hebdomadaire en tête-à-tête, dans un bistrot au bord du Rhône, acccompagné par une viande tendre et un verre de vin désinhibant. Deux heures de conversation sans complexes, sur toutes sortes de sujets, de la course aux élections présidentielles aux Etats-Unis au dernier roman de Philip Roth, de l'éducation de mes enfants à la dernière pièce de Pinter, sujet qui m'intéresse de près: je suis critique de théâtre.
Ces leçons d'anglais sont uniques, bien plus efficaces et intenses que les cours que j'ai pu suivre naguère, à raison de deux heures par semaine, dans telle ou telle école prestigieuse. Garry Littman a ce talent: il n'écoute pas seulement son étudiant, notant dans un carnet ses erreurs, pour les corriger ensuite dans un rapport détaillé qu'il envoie par mail après chaque séance; il personnalise la leçon, l'adapte aux besoins de son interlocuteur.
Souvent, nous simulons des interviews avec une star de la scène ou du grand écran: je suis le journaliste, Garry Littman devient Al Pacino. C'est un jeu où chaque mot compte: je transpire, je m'enthousiasme, je me concentre comme si j'étais vraiment en face d'une star, ce qui stupéfie souvent nos voisins de table. Il faut dire que Garry Littman est un acteur talentueux. Le professeur a cette qualité: il donne envie d'apprendre, de se surpasser. English for lunch est ainsi aussi intense que la meilleure des pièces. Avec ce plaisir en plus: j'en suis l'acteur.
Alexandre Demidoff, Le Temps journalist/critic Geneva
English for healthcare professionals
Are you a doctor, chiropractor, desntist, nurse or midwive? Do you have more and more English-speaking patients? We can help you to communicate simply and clearly with your patients…so that both you and your patients feel more confident. Could you please roll over onto your left side?
One to one English lessons at The Language House are very helpful and allow me to be more comfortable in my daily work, especially in our regular Webex telephone meetings.
My trainer targets my needs in speaking and corrects me. We work on specific exercises to improve my business language. I am much more relaxed and confident in my spoken English
The lessons are friendly and efficient. Time passes quickly during the lessons. The green tea is also delicious. I have decided to continue with more lessons.
- Catherine Bor pathologist Unicancer
Many thanks for your professionalism !
Your repeated drilling helped me to successfully conduct my project in a minimum of time.
Thanks to your personalized lessons, I was able to make a presentation in English successfully.
I will not hesitate one second to call on you whenever I need a help of high quality.

- Mireille Baptist, medical services

My English teacher Garry at The Language House is very friendly but is always focused on my words. He helps me to speak as simply and as clearly as possible. I now really enjoy speaking a lot in our classes My progress is visible. Friends and family have told me that my English is much better. I recommend The Language House.
- Catherine Tarraiz, administration HUG Geneva