Cairns is the gateway to the Great Barrier Reef – the largest and most beautiful marine park in the world. It's the perfect place to learn to dive in clear waters full of exotic life, from whales and dolphins to extraordinary coral formations. Cairns is a busy tourist city with a youthful energy. There are lots of things to do and see; fishing, snorkelling, diving, ballooning, white river rafting, rainforest safaris to name a few. Cairns is the biggest city in the tropical north of Australia. It has an international airport.
Here there are just two seasons – the dry and wet season. The best time to study and live in Cairns is between April and October. Just north of Cairns is the Daintree rainforest, one of the oldest rainforests on the planet, and one of The Language House's favourite places in Australia. How old? About 120 million years old. You can hear the dinosaurs.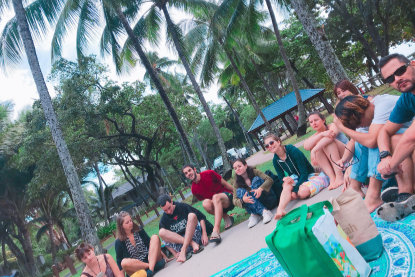 Cairns College of English & Business
The Cairns College of English & Business (CCEB) provides general English and exam courses, and business and hospitality courses. In 2016 the school won the Queensland Export Award for Education and Training. It is a member of the International Association of Language Centres (IALC) – one of our favourite language organisations. The school is modern and students are guaranteed quality courses in a beautiful location. CCEB offers free daily and weekend activities. It's adventure time! Cairns is where the rainforest meets the reef, and is the only place in the world where two world heritage-listed sites can be found side-by-side.
where is it?
City centre
Close to everything, supermarket, banks, lagoon pool, Esplanade, parks, cafes, restaurants, police station, convention centre
where can i sleep?
Homestay: Most homestays are about 25 - 40 mins by bus
Student residences: walking distance from school
what can i study?
General English
IELTS exam preparation
Cambridge exam preparation (FCE and CAE)
English for Customer Service
Certificate and diploma courses in Business, Hospitality, Travel and Tourism, Early Childhood and Education Care
Courses for future English teachers
good to know..
Max class size: 16 students
Average class size: 12-15 students
School capacity: 150 English language students
Average Age: 25
Minimum Age: 16
General English Courses 25 hours a week (full time) 20 hours a week (part time)
15 classrooms
Self-access study centre
Student computers and free Wi-Fi
Student café
Travel and tour assistance
Activities
Activities every day and every weekend
Pub Night
Yoga
Grammar class
Pronunciation class
Salsa
Zumba
Green Island trip
Scuba diving
Sky diving
Bungy jump
The Language House likes
If you have ever dreamed about living in the tropics, then Cairns is the ideal place; close to the reef and lush mountains. Head north to Daintree – one of the oldest tropical forests on the planet. Extraordinary! Be prepared to sweat a little.