Manly is a beautiful beach-side suburb of northern Sydney. It is a 20 minute ferry ride to the city centre.
Manly has plenty of beaches with kilometres of golden sands, including one of Sydney's best surf beaches. Our school is just a three-minute-walk from the main beach. You can go for a swim and surf before or after school or even at lunchtime. Jump on a bike. There are more than 20 kilometres of bicycle tracks around Manly. Not too bad, eh?
The Language House likes Little Manly Beach (a 10 minute walk from Manly centre) for a quiet swim and a picnic on the sand.
The city centre is a bustling metropolis of shops, cafes and restaurants. Manly offers Sydney beach–side living at its best—comfortable and relaxed.
Lexis English
English on the beach! Lexis Manly is a medium-size boutique school of between 200 and 250 students in the lovely beach centre Manly. Manly is home to one of Sydney's best and most beautiful surf beaches. Lexis Manly overlooks the golden sands of Manly Beach, with just a few steps between the classroom door and the water!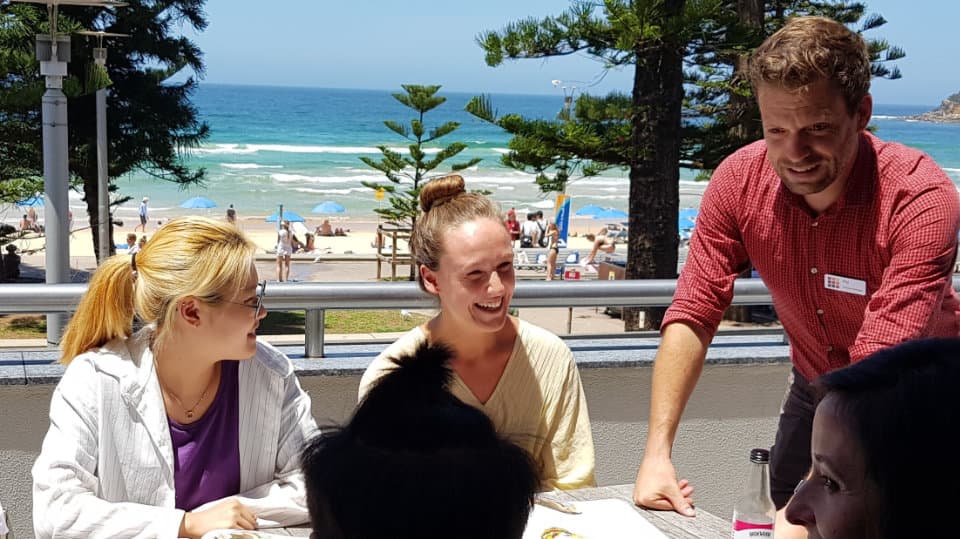 Lexis Manly is part of the family-owned Lexis Education group, with locations around Australia and internationally.
Their mission is simple: to provide excellence in English language tuition whilst providing students with a home away from home. Their mantra is study, work and live …and nowhere captures this so well as Manly, with quality academic programs, unrivalled student job opportunities and what may be Australia's best lifestyle.
Lexis Manly is a friendly, welcoming school where everyone knows your name, and offers the absolute best of the city and the beach.
Location
Lexis Manly is 15 minutes by fast ferry or 25 minutes by normal ferry from the city centre.
Ten seconds away from one of the world's great beaches.
The school is surrounded by cool cafes and shops.
Accommodation
Homestay: average travel time 20 minutes
Manly Bunkhouse: 10 min walk to school
Sydney Beachouse: 30 minutes by bus from school
Programmes
General English
Cambridge exam FCE, CAE and CPE
IELTS Preparation
PTE Preparation
English and Surfing
Daytime and evening schedules
Vocational programs through Lexis Training
Important info
General English: 25 hours per week—20 hours face to face + 5 hours of conversation class, seminars and supervised study
Part-time: 15 hours per week
Max class size: 15 students
Average class size: 12 General English and 10 Cambridge exams
School size: small-medium 200-250 students
12 classrooms
Wi-Fi
Kitchen, seaside balcony and lounge area
Information and travel desk
Beach 10 metres from school
Work-Study
Job information and advice
Lexis Workshop job support
The school helps students find paid and volunteer jobs
Activities
Beach volleyball
Beach barbecues
Parties
Surfing courses
Weekend excursions
Fish and chips on the beach
Film nights
The Language House likes
Manly's beaches are fabulous. Manly is one of the great places to swim, surf or just hang out, watch the sea gulls and the surfers and eat some fish and chips in the sun…. All of this just a three-minute walk from the school. Lexis Manly is a friendly school where everyone knows you by your first name.
.