Manly is a beautiful beach-side suburb of northern Sydney. It is a 20 minute ferry ride to the city centre.
Manly has plenty of beaches with kilometres of golden sands, including one of Sydney's best surf beaches. Our school is just a three-minute-walk from the main beach. You can go for a swim and surf before or after school or even at lunchtime. Jump on a bike. There are more than 20 kilometres of bicycle tracks around Manly. Not too bad, eh?
The Language House likes Little Manly Beach (a 10 minute walk from Manly centre) for a quiet swim and a picnic on the sand.
The city centre is a bustling metropolis of shops, cafes and restaurants. Manly offers Sydney beach–side living at its best—comfortable and relaxed.
Lexis English
English on the beach! Lexis Manly is a medium-size boutique school of between 200 and 250 students in the lovely beach centre Manly. Manly is home to one of Sydney's best and most beautiful surf beaches. Lexis Manly overlooks the golden sands of Manly Beach, with just a few steps between the classroom door and the water!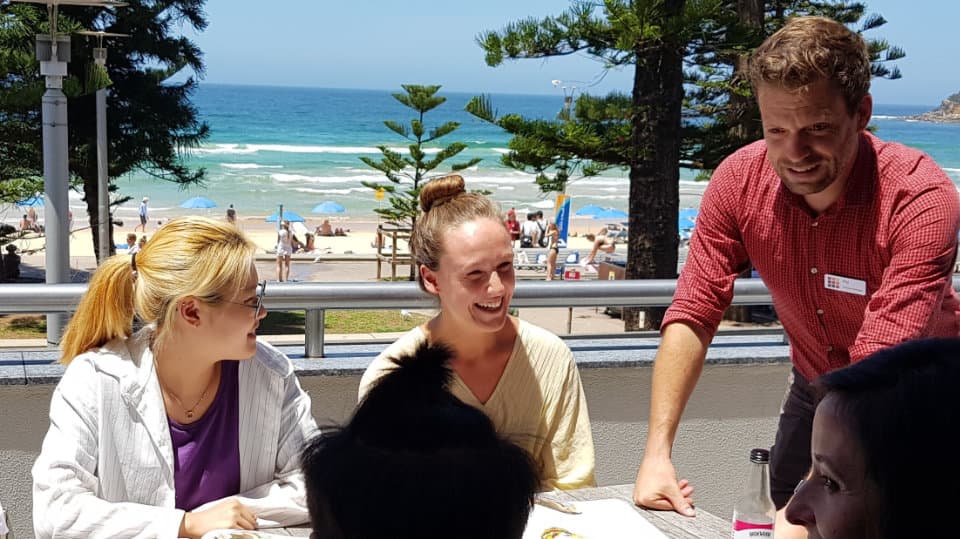 Lexis Manly is part of the family-owned Lexis Education group, with locations around Australia and internationally.
Their mission is simple: to provide excellence in English language tuition whilst providing students with a home away from home. Their mantra is study, work and live …and nowhere captures this so well as Manly, with quality academic programs, unrivalled student job opportunities and what may be Australia's best lifestyle.
Lexis Manly is a friendly, welcoming school where everyone knows your name, and offers the absolute best of the city and the beach.
where is it?
Lexis Manly is 15 minutes by fast ferry or 25 minutes by normal ferry from the city centre.
Ten seconds away from one of the world's great beaches.
The school is surrounded by cool cafes and shops.
where can i sleep?
Homestay: average travel time 20 minutes
Manly Bunkhouse: 10 min walk to school
Sydney Beachouse: 30 minutes by bus from school
what can i study?
General English
Cambridge exam FCE, CAE and CPE
IELTS Preparation
PTE Preparation
English and Surfing
Daytime and evening schedules
Vocational programs through Lexis Training
good to know..
General English: 25 hours per week—20 hours face to face + 5 hours of conversation class, seminars and supervised study
Part-time: 15 hours per week
Max class size: 15 students
Average class size: 12 General English and 10 Cambridge exams
School size: small-medium 200-250 students
12 classrooms
Wi-Fi
Kitchen, seaside balcony and lounge area
Information and travel desk
Beach 10 metres from school
Work-Study
Job information and advice
Lexis Workshop job support
The school helps students find paid and volunteer jobs
Activities
Beach volleyball
Beach barbecues
Parties
Surfing courses
Weekend excursions
Fish and chips on the beach
Film nights
The Language House likes
Manly's beaches are fabulous. Manly is one of the great places to swim, surf or just hang out, watch the sea gulls and the surfers and eat some fish and chips in the sun…. All of this just a three-minute walk from the school. Lexis Manly is a friendly school where everyone knows you by your first name.
.
English Language Company
[div class="art_2"]
English Language Company (ELC) is an award-winning, spacious and modern school. It has excellent work and study programmes.
The school is accredited and quality-endorsed by numerous accreditation bodies and has been voted the best school in the southern hemisphere five times, being now the only STM Lifetime Super Star Award in Australia.
ELC was founded and is managed by a dynamic pair of former English teachers, David Scott and Lyn Scott who have also written and published English language learning books. The school is student–focussed with probably the best work and travel programme in Australia. It has a large database of casual jobs available for students and also offers support on where students can find jobs. ELC has a dedicated travel desk offering a fabulous choice of daily activities and weekend excursions.
where is it?
ELC is located in the heart of Sydney close to transport, cinemas, shops, restaurants, Darling Harbour and a few minutes by tram from the famous Sydney Opera House .
where can i sleep?
Homestay
ELC Premium apartments
Student residences
what can i study?
General English (full-time and part-time options available)
English for Academic Purposes/IELTS
Cambridge exam preparation (FCE, CAE & CPE)
General + Business English
good to know..
Max class size: 16 students
Average class size: 13 students
School size: medium-large 200 - 300 students
Average Age: 23-25
Minimum Age: 18
24 classrooms
Lessons are 75 minutes
Student computers and free Wi-Fi
Kitchen and dining area
Study centre and computer lounge
Information and travel desk
Registration for CAE or FCE exam upon request
Work-Study
Internship placements through Australian Internships
Au pair and demi pair placements through Smart Aupairs
Volunteering experiences through Conservation Volunteering (and now transitioning to Ocean2Earth)
Working Holiday free orientation,support and preparation for work by the school
Activities
Every week ELC students meet after school for new student welcome drinks. This is a great way to get to know your classmates and school teachers and staff.
ELC has a packed activities calendar for after classes, including popular options such as:
Museums, exhibitions and galleries
Beach barbecues
Parties and bars
Sightseeing trips
Weekend excursions
Excursions
ELC school has an Australia Travel Desk Check where you can plan and organise your trips.
The ELC student experience team can help you with your questions:
Do you want to learn to surf?
Love to try scuba-diving?
Keep up your soccer skills.
Take up yoga.
Volunteer your time.
Tell the student experience team what you're interested in and they will connect you to the clubs, places, classes and people to make it happen.
The Language House likes
ELC offers a great range of work possibilities during and after your studies.
[/div]