The Gold Coast is one of Australia's most famous beach-side destinations. One million tourists a year come from all over the world to enjoy 55kms of pristine beaches, excellent surf, 300 days of sunshine per year and 100,000 hectares of World Heritage-listed rainforests. The Gold Coast has a population of 560,000. It is the sixth largest city in Australia.
The Gold Coast is proud of its lifestyle. Students love the weather, the beaches, clubs, theme parks, forests, and a myriad of cafes and restaurants. In the middle of winter, the average daytime temperature is 22°C.
Inforum Education Australia
Inforum Education was founded in 2007 by its esteemed director and principal, Simon Craft, and is nestled in the heart of Southport, one of the most breathtaking locations on the Gold Coast, Australia. Known as the country's most sought-after beach destination, the Gold Coast attracts millions of visitors every year. With its prime location, Inforum Education is just a leisurely five-minute stroll away from various shops, restaurants, post offices, and other local conveniences. Their campus is a home away from home, with a serene garden and BBQ area where students can unwind, savour barista-made coffee in the inviting student lounge, and stay connected with the high-speed Wi-Fi available throughout the campus.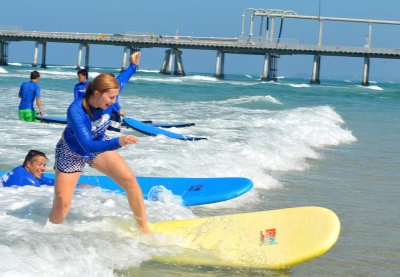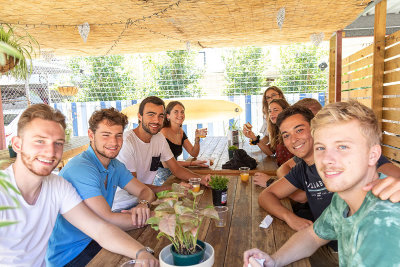 Inforum's magnificent school building has:
Student lounges and café including barista machine, microwaves, fridges and beach café style surroundings;
An outside BBQ area for the exclusive use of our students to enjoy the Gold Coast's fantastic weather;
High speed Wi-Fi delivered through four hotspots throughout the building;
where is it?
Inforum is in Southport, a 2—5 minute walk to all shops, banks, bus and tram stops, local cafés and library. The school is a 10 minute bus ride from Southport Main Beach.
where can i sleep?
Homestay: Full board or half board, single or twin.
Room only: Single or twin.
Hostel: The Bunk Hostel, Surfers Paradise.
what can i study?
General English (full-time)
Cambridge Exam Preparation (FCE and CAE)
IELTS Exam Preparation (Foundation and Advanced)
English plus Surfing programs
Private lessons
All lessons are face-to-face.
good to know..
Max class size: 16 students
Average class size: 15 students
School size: medium 350 students
Number of classrooms: 16
Mininum age: 17
Student computers, great student lounge and garden and free Wi-Fi
Outside deck and BBQ area
Beach café style student lounge and café
Lessons are 60 minutes in length. 4 hours/day, 5 days per week = 20 hours per week for General English and IELTS. 22 hours/week for Cambridge FCE and CAE preparation.
There are two shifts. The morning classes are from 8.30am to 12.45pm. The afternoon classes start at 1pm and finish at 5.15pm.
Airport transfer from Gold Coast or Brisbane
Registration for CAE or FCE exam
Work-Study
Barista training courses
Job skill workshops
Working in a bar certificate (Responsible Service of Alcohol)
Dog and cat welfare training courses
Activities
The Gold Coast has 50km of the best beaches in Australia. Enjoy swimming, surfing, beach volleyball, beach BBQs, kite-boarding, kayaking and sailing.
Inforum runs activities every week all including:
The Language House likes
Inforum has a monthly Guest Speaker program where students meet people from the Gold Coast community. Speakers include: lifesavers, scuba diving instructors, Olympians, gymnasts, police officers and many more.
Langports Gold Coast
Langports is a family run school with campuses on the Gold Coast and in Brisbane. The schools have an excellent reputation both for their facilities and their academic courses.
Langports' Gold Coast campus is a two level modern building located in the centre of Surfers Paradise. It is just 500 metres from the famous Surfers Paradise Beach where you can swim, surf or just relax along kilometres of sandy beach. Surfers Paradise is also home to theme parks, clubs, shops, restaurants and cafés.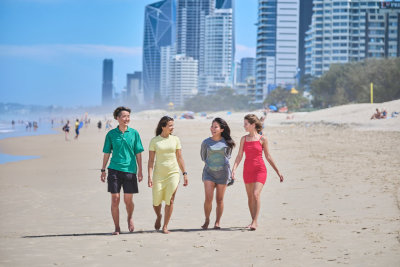 where is it?
The school is a 5-minute walk from the beach. The closest bus and tram (light rail) stations are 250 metres from the campus.
where can i sleep?
Homestay - 3 options: homestay+ (own bathroom), homestay and self-cater
Student House
Student Apartments (Renaissance and Cavill)
what can i study?
UFO English (Personalised General English Program)
Cambridge exam preparation FCE and CAE
Cambridge Flexi courses for PET, FCE and CAE
IELTS exam preparation
TOEIC exam preparation
English for Academic Purposes
English for Business Options (Introduction to Business English, English for Business & Administration, English through Media and the Internet and more).
Job club - fortnightly
English + demi-pair program
English + internships
English + volunteering
Private tuition
Group Study Tours
good to know..
General English: 15 or 20 hours per week.
Max class size: 18 students (except for Cambridge courses where the limit is 16)
Average class size: 12-13 students
School size: average of 300 students per year
After school activities: afternoon activities from Tuesday to Friday, day trips and weekend trips on Saturdays and Sundays, including surf lessons, whale watching, sports activities, trips to Moreton Island & Fraser Island, excursions to theme parks, trips
21 modern classrooms, many equipped with audio-visual resources
Free internet access for all students, with wireless connectivity available throughout the campus
A library area with books, DVDs, and magazines for students to borrow (refundable deposit required)
Recreation areas with computers, lounge and games facilities
Student common room with a kitchen containing microwaves, a large refrigerator and vending machines
Wide screen televisions
Outdoor balcony & garden with BBQ
Surfboards and bicycles available for student hire
Cafés located close by
Use of the gym at a special Langports student price of $17.95 per week
Work-Study
English for Work in Australia workshops
English + internships
English + demi-pair
English + volunteering
Activities
Never a dull moment on the Gold Coast. There are clubs and world famous theme parks, and beaches with excellent waves to surf. And most days are sunny.
Here are just a few activities Langports Gold Coast organises:
The Language House likes
Go surfing. Get a surfboard. It takes less than 5 minutes to walk from school to the beach.