Devon is a county located in the southwest of England that is known for its stunning coastline, rolling hills, picturesque villages, and rich history. With a mild climate, beautiful landscapes, and a welcoming local community, Devon is a destination that enchants visitors from around the world.
Torquay, located on the stunning English Riviera, is a seaside town in Devon that is an ideal place to study English. With its golden beaches, palm trees, and warm climate, Torquay is a destination that offers both natural beauty and a vibrant social scene. The town has a rich history and is home to many cultural attractions, including the Torquay Museum, Kents Cavern, and the Agatha Christie Mile. Torquay is also a popular destination for water sports, hiking, and exploring the stunning coastline.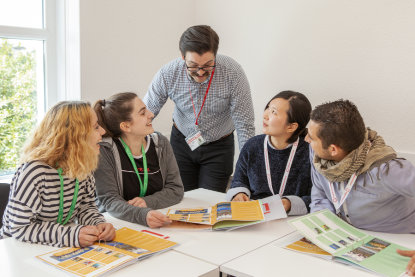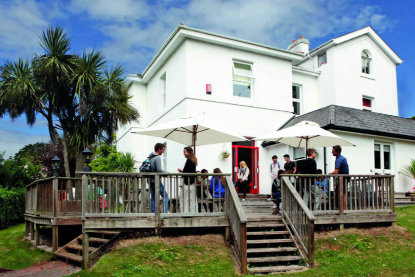 Torquay International School

Tucked away in the scenic English Riviera, Torquay International School/IH Torquay is a premier institution that welcomes students from all walks of life. With its warm and caring environment, the school has built a loyal following of returning students and business clients which is always a great sign! Its tranquil setting surrounded by lush gardens and its partner hotel - Ferndale Lodge - located just across the street offer students the perfect haven to learn and relax. With a commitment to excellence in education and a focus on making each student's stay unforgettable, Torquay International School a great place for anyone looking to explore the beauty of Devon while mastering the English language.
Where is it ?
In the heart of Torquay, a short walk from the town centre and the train and bus stations
Excellent shopping, cafés, restaurants, beaches and leisure facilities nearby
Where can I sleep ?
Homestay: rooms with shared bathroom or private bathroom, breakfast and dinner every day
Student House
Student residences: partner hotel is opposite the school (Ferndale Lodge)
What can I study ?
Max 4 English for ages 30+*
Discover Devon classes and leisure programme, ages 50+ *
Language Holidays for Adults, classes and leisure programme *
General English (15. 19, 23 and 30 hours per week)
Cambridge exam preparation (FCE, CAE and CPE)
IELTS exam preparation
English for Academic Purposes
English plus Golf *
1:1 lesssons *
*These courses include FREE private car transfer on arrival from Exeter Airport, Bristol Airport, or any London Airport. They also include lunches in different local restaurants, Monday to Thursday.
Good to know…
Max class size: 4, 6 or 12
Average class size: 3, 4 and 8
School capacity: 150
Average Age: 42
Minimum Age: 18
Lessons are 60 minutes
20 classrooms
Student computers and free Wi-Fi yes
Airport transfer from any airport (please see above)
Registration for CAE or FCE exam
Activities
Guided walks, film club, volley-ball, country pub outings, market visits, day trips to various places, football tournaments and much more.
Torquay and Devon are great for water sports, hiking, walking, boat rides etc and there are excellent restaurants, food festivals and a buzzing social scene.
Something to think about (an interesting fact)
Agatha Christie, one of the world's most famous authors, was born and raised in Torquay. We visit her home as part of our social programme.
The Language House likes
Its decades of experience and small class sizes. One thing that really sets it apart are some of the unique English courses on offer, such as English Plus Golf, Discover Devon, and English for the Over 50s. These programs offer a truly immersive and personalized learning experience that's tailored to the needs and interests of each student.