Bournemouth is a vibrant coastal resort town in southern England. With stunning beaches, a lively atmosphere, and pleasant weather, the town offers seven miles of sandy coastline for seaside activities and relaxation. There are plenty of great shops, restaurants, and entertainment venues. The Southbourne area provides a tranquil escape with access to beautiful beaches. Bournemouth is an ideal destination for language learners, offering a dynamic environment. Immerse yourself in English while enjoying the coastal charm.
Southbourne School of English
Southbourne School of English is a respected language school in Southbourne, Bournemouth. It offers English language courses for international students. The school provides a supportive learning environment. With experienced teachers and modern facilities, it aims to enhance language skills effectively. Programs include General English, Exam Preparation, and Business English. It's known for high-quality education and personalized attention to students.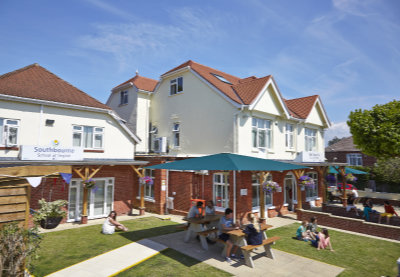 where is it?
Southbourne is situated in Bournemouth on the south coast of England – home to some of the finest beaches that the UK has to offer.
Close to a variety of restaurants, cafes, clubs, bars and more. Smithson's Fish & Chip Shop is not to be missed! Near to great nightlife to students of all ages.
where can i sleep?
Homestay: All within easy walking distance, max 30/35 mins from school.
what can I study?
General/Intensive English (15/21 hours per week)
Cambridge exam preparation (FCE and CAE)
IELTS exam preparation
good to know..
Max class size: 14 in winter 16 in summer months
Average class size: 8
School capacity: 300 winter/330 summer
Average Age: 24 for adults 14 for juniors
Minimum Age: 10
Lessons are 60 minutes
22 classrooms
Student computers and free Wi-Fi
Large student lounger with sofas, TV's, table football, table tennis
Airport transfer from LHR, LGW, Bristol, Stansted, Southampton and Bournemouth
Registration for CAE or FCE exam
Activities
Everything you need is within walking distance of the residential area, so you can pack your day full of activities, without having to travel far.
Beach activities: surfing, kitesurfing, windsurfing, beach volleyball, sailing, football
Various day trips
Bowling, golf, horse riding
Film nights, quizzes, and games evenings.
Music and comedy events at the Bournemouth International Centre
Oceanarium (a journey around the waters of the world)
Ice-skating.
The Russell-Cotes Art & Gallery museum in Bournemouth
Night clubs, such as Halo, Walkabout, Cameo & Myu Bar, Revolution among others
German Christmas Market in winter
The Language House likes
Great in-school student facilities (including café, games room, cinema room), friendly family-run school. Plenty of activities and a great social scene.