Dublin is the capital city of Ireland with a population of around 1.3 million people. That's about a quarter of all people living in Ireland. Dublin has a young population that likes to work hard and party hard.
The city is close to the sea and the mountains—all within easy reach by public transport. The Irish are generally warm and super friendly and love to talk. Dublin is also a city of music. It's the home of U2 , Sinead O'Connor , Thin Lizzy and The Script . Music is everywhere in the city. You can listen to traditional music in the pubs with a glass of Guinness in your hand. There is plenty of free music on street corners. You'll be amazed by the number of people that stop to have a chat.
Emerald Cultural Institute
The Emerald Cultural Institute (ECI) is a well-established English language school, with a reputation for academic excellence and quality of service. Emerald is situated just south of Dublin city centre. ECI is a Cambridge examination centre.
The campus is in a charming building set in landscaped gardens overlooking the beautiful Palmerston Park . It offers students the chance to study English in a peaceful, stress-free environment with the city centre only a six-minute tram journey away.
The school is within easy reach of Dublin city centre close to both homestay families and student accommodation.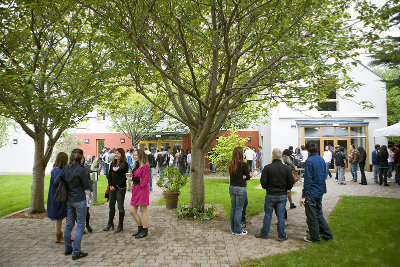 WHERE IS IT?
5–10 minutes from city centre by tram, south of Dublin city centre
WHERE CAN I SLEEP?
Homestay: Most homestays are about 25–40 mins by bus or tram. A limited number are walking distance
Student residences: A 15–minute tram journey from the school
WHAT CAN I STUDY?
Intensive general English
Combined courses—group and private lessons
Cambridge exam preparation
Long–term academic year courses
IELTS exam preparation
General English plus English for business
University foundation programmes
Executive English courses
Teacher training courses
Family programmes
GOOD TO KNOW..
Max class size: 14
Average class size: 10 students
School capacity: 230
Average Age: 25
Minimum Age: 17 years
General English courses: 20 or 26 hours per week
Lessons are 60 minutes
22 classrooms
Self-Access Study Centre
Student computers and free Wi-Fi
Fully serviced restaurant
Interactive Whiteboards or projectors in all classrooms
On a spacious campus with garden
Work–Study
English plus internship programme
Activities
Activities every afternoon and a few evenings, organised trips at weekends
Visit to the Guinness Storehouse
Walking tours
Pub Night
Museum and Gallery visits—National Gallery & Museum of Modern Art
Dublin Castle visit
Walks from Bray to Greystones
Trips to Belfast, Powerscourt and Glendalough, Galway and the Aran Islands
The Language House likes
Emerald Cultural Institute is a quality school. Its offers a top-class language learning experience. The school facilities, teaching and clients services are considered to be among the best in Ireland. Highly recommended.
The Horner School of English
The Horner School of English is owned and managed by the Horner Family. It is an English school for adult students, located in the city centre of Dublin—an area famous for its Georgian style buildings and close to two beautiful parks. You can see the school in the U2 video, Sweetest Thing.
Most classes are relatively small between 8 and 10 students. The school is a member of the Quality English group.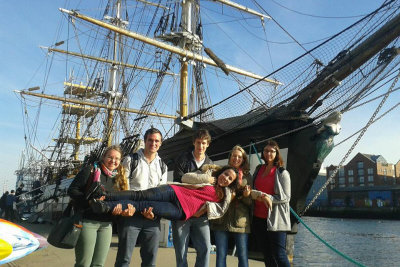 where is it?
Located in the heart of Dublin city, 500 meters from St. Stephens Green,

Short walk to Grafton Street, shops, pubs, cafes, restaurants and main transport links
where can i sleep?
Homestay - average travelling time is 40 minutes by bus or train, half board
Student residences - 4 residences - all self catering, single room, ensuite:
Horner Residence, Baggot City Residence
Ardcaird Residence and Heyday Residence (great facilities including gym, study area etc)
what can i study?
Standard Course: 20 lessons of General English
Standard Course PLUS (Fluency or Business): 26 lessons—20 lessons of General English PLUS 6 lessons of fluency or business English
Standard Course PLUS (IELTS or Cambridge exam prep): 26 lessons—20 lessons of General English PLUS 6 lessons of exam preparation
Semi-Intensive Courses: 22, 25 or 30 lessons—20 lessons of General English PLUS 2, 5 or 10 private lessons
One 2 One: 20, 25, 30 or 40 lessons of private tuition
good to know..
General English: 20 or 26 lessons per week. Lessons are 50 mins.
Max class size: 14 students
Average class size: 10 students
School size: small to medium 120–250 students
16 classrooms
Computer and wifi
Private garden, coffee room, quiet study room
Work-Study
Work Experience Programme: unpaid, 8 – 24 weeks, minimum B2 level of English, plus 4 weeks Standard PLUS Business course
Activities
Social activities are arranged throughout the year.
There are at least two activities every week and one weekend excursion each month. In the summer
In the summer months there is a weekend excursion every weekend.
Social activity examples include:
Visit to the Guinness Hop Store
Irish Music Nights
Walking Tours
Free English Tutorials
Full day tours to Belfast city, Glendalough, Kilkenny City & Castle and more
The Language House likes
The Horner School of English is a shining example of how family run schools often offer a much better English experience compared to larger chain schools. The Horner family is invested in the day to day running of the school. The level of services and quality of teaching is excellent.