Cork is Ireland's second city and is the ideal destination for students to discover the real Ireland: green, poetic, musical, chatty and charming. It is also the gateway to beautiful wild southern part of Ireland.
It's smaller, quieter and much more relaxed than Dublin.
Cork City has a population of about 220,000. The city is compact with excellent public transport. Most of the city-based attractions are in the city area. Most are free. Almost everything is walking distance. Great for bicycles.
The city has a vibrant arts and cultural ethos and was the European Capital of Culture in 2005. Cork is host to many festivals—the Guinness Cork Jazz Festival , the Cork Film Festival , the Cork International Choral Festival and the Cork Midsummer Festival .
One of our favourite actors, Cillian Murphy (Mr Peaky Blinders) is a native son of Cork.
Cork English College
Cork English College has three beautiful buildings in the heart of the city centre. One stands high on Saint Patrick's Hill and the other two have waterfront locations, overlooking the picturesque River Lee .
Founded in 1978, CEC has an excellent reputation and has been teaching English to students from all over the world. It is a Cambridge and IELTS testing centre.
The school is a family run business.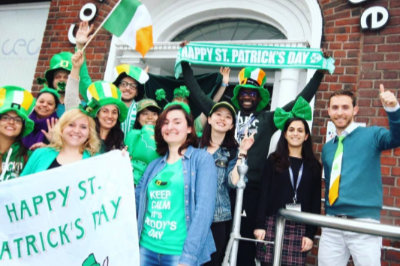 Where is it?
City centre
Close to shops, bars, restaurants and transport
Located on the river-side with scenic views
Work—Study
Job club
Volunteer work
Internships
Work experience
What can i Study?
General English
Intensive General English
One to One
Executive Programmes
Business English
Cambridge PET, FCE and CAE Exam Preparation
IELTS Preparation Course
TOLES Preparation Course
Teacher Refresher Courses
Military English Programme
Aviation English Programme
Academic Year – Long Stay
Pre Sessional Programme
Internship Programme
Family Language Stay
Activities
CEC offer a full programme of afternoon and evening social activities.
Where can i Sleep?
Homestay:

Standard or Ensuite Host Family
Distance from school: 20-30 minutes by public bus

Student residence:

Single standard or Single en-suite
Distance from school: Often walking distance

Shared apartment:

Single room with private bathroom or single room with shared bathroom or twin room with shared bathroom
Distance from school: Walking distance

Private apartment:

2/3-bed apartment or 5-bed apartment
Distance from school: Walking distance

Hotels / Guesthouses:

Distance from school: Walking distance
good to knoW..
Max class size: Morning 12, Afternoon 15
Average class size: 6—8 students
Multinational
Cinema room
IT room
Common rooms
Library
Exam rooms
Private self-study rooms
Member of the Quality English school group
The Language House likes
We are great fans of the city of Cork. We like the small classes—maximum 10, average 6-7. If you are a slightly older student and serious about your English—this school is an excellent choice.
ACET (Active Centre of English Training)
Active Centre of English Training (ACET) is a family-run school with more than 40 years' experience. The school is in a charming historic building in the Cork city centre with a Georgian chic interior and modern facilities.
It's a super-friendly school owned and managed by women; the lovely Odile, originally from France and her daughter Joëlle. They love to make you feel welcome and special. The school offers a wide range of exams including Cambridge exam, IELTS, TOEFL and TOEIC. The school is only a short walk from a fitness centre and swimming pool.
The school is a member of the International Association of Language Centres . It is a Cambridge exam centre.
where is it?
The school is a three-minute walk from the heart of Cork.
where can i sleep?
Homestay families about 40 minutes travel time from the school
Student residences Single and twin rooms
Student residences are about 20-30 minutes walking distance to the school
what can I study?
General English part-time: 20 hours per week or 15 hours per week (morning and afternoon)
General English intensive: 26 hours per week
Cambridge exam preparation FCE and CAE
Business and professional English
Exam afternoon options include TOEIC, IELTS and TOEFL.
Private training
Teacher training programmes
Gold programme for clients age 50+
good to know..
General English: 20 hours per week or 15 hours per week
Max class size: 14 students
Average class size: 8-10 students
School size: medium 100-150 students
24 classrooms
Wi-Fi
Kitchen and dining area
Library
Study centre
Information and travel desk
Interactive white boards
Garden and smoking area
Work-Study
Regular and updated Job information in the school student lounge.
Activities
Full programme of activities allowing clients to meet people from all over the world.
Some activities are free others are charged at cost
Discover Cork—walking visit of the city
Learn Irish dancing
Pub evenings
Karaoke nights
Theatre nights
Bowling
Greyhound racing
Whale watching trips from Cork Harbour
Cine-club / Debating / Coffee Mornings / Book Club / Charity fundraisers / Paint-balling
The Language House likes
Every school has its own character and culture. ACET in Cork is a school with a feminine touch; welcoming, nurturing and student-focused.