New York is the epicentre of the USA, if not the planet. It is a world capital for art, fashion and food.
The Big Apple, as it is affectionately known, is famous for its big city energy. There is an optimism and creativity in the air. There are always wildly imaginative works being created in this melting pot of cultures. It's a feast for the senses. Hollywood has fed you bits and pieces of New York for years.
Now it's time to grab it with two hands and take a bite out of the Big Apple.
Here's a few things you must do in New York:
FACTS
A few New York city facts:
Before Europeans arrived, the area was populated by the local Native American Delaware Tribe .
The first European colonists were Dutch, fleeing from the Spanish Inquisition.
The city was originally named New Amsterdam.
In 1626, Peter Minuit bought the land (New York City) from Native Americans by trading beads and furs.
From 1789 to 1790, New York City was the nation's capital.
New York City has a population of about 8.6 million.
Almost half of the city's residents speak a language other than English.
New York has more than 60,000 homeless people.
New York City is the most densely populated major city in the United States.
The Statue of Liberty was a gift from France in 1886.
The TCS New York City Marathon attracts more than 50,000 runners.
Rennert New York Language School
Rennert New York Language School is in Midtown Manhattan , about five minutes from Grand Central Station and 15 minutes from Times Square . It's a big school with about 500 students in summer. It offers a great range of English programmes. There are the more classic lessons as well as some interesting plus courses. Try English plus Dance, Fashion, Photography or Music Video Production, among others.
Rennert New York Language School also has a dedicated executive centre with small group and private courses for more mature clients (minimum age is 26).
Students are surrounded by extraordinary dining and entertainment options. The speedy NYC subway system (a short walk away) will take you to all corners of the city.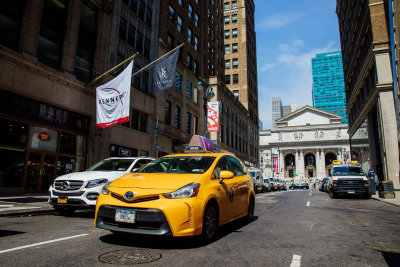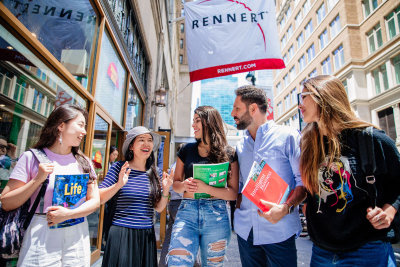 where is it?
Midtown Manhattan, minutes from Grand Central and Times Square
Easy access to the subway
where can i sleep?
Homestay: In Manhattan, Brooklyn, and Queens. All locations are about 40 to 60 minutes away from the school via subway
Student residences: Rooms with shared bathrooms from 5 to 20 minutes travel time from the school
Apartments: Shared, from 5 to 25 minutes away
what can i study?
American General English
Business English
English for Academic Purposes
TOEFL Preparation
Work Experience Internship Programs
Gap Year/University Placement
English + Dance
English + Fashion
English + Music
English + Coding
English + Photography
English + Acting
English + Filmmaking
English + 3D Animation
English + Music Video Production
Professional Executive English
Family Programs
TESOL Programs
Private lessons
good to know..
Max class size: 12 students (5 for Professional courses)
Average class size: 10 students
School capacity: 500 Students
Average Age: 28
Minimum Age: 17+ for GE, 26+ for PEP
Student Lounge
Executive Lounge for Professional Students
Work-Study
Rennert offers two work placement programs, one for students traveling with a Student Visa and one for students traveling without. Both programs can be started any Monday.
Activities
Daily activities, most of which are free or come at a reduced price. Here's an idea:
Broadway show
Baseball or basketball game
Lectures and workshops
Jazz night
Walking tours
Weekend tours to nearby cities including Boston, Washington DC, Philadelphia, Niagara Falls.
The Language House likes
It doesn't get much better than studying English in New York. There's always so much to do and see. It's non–stop. The problem is finding time to sleep. If you are a big city person and like crowds, then this is the place for you. It's definitely not the cheapest city in the USA.