Welcome to Hawaii, the tropical paradise that promises young adults an unforgettable adventure, relaxation, and an immersive English learning experience. From the world-renowned beaches, crystal-clear waters, and breathtaking views to the unique cultural diversity, Hawaii has something for everyone.
For the thrill-seekers, Hawaii's waves provide the perfect playground for both beginner and seasoned surfers. If hiking is your thing, you can explore the lush rainforests and summit the majestic volcanoes to witness the stunning panoramic views or discover hidden waterfalls and secret swimming holes.
But Hawaii's appeal goes beyond its natural beauty. Its multicultural society offers a plethora of experiences to explore and learn from. You can indulge in traditional Hawaiian hula dance performances, visit historic sites like the USS Arizona Memorial in Pearl Harbor, or learn to strum the ukulele.
What's more, Hawaii's warm weather, friendly locals, and English being the official language make it an ideal place for non-native English speakers to practice and improve their language skills. And if that's not enough, the islands' museums, galleries, and cultural events provide ample opportunities to delve into the rich history and culture of Hawaii.
In summary, Hawaii is the ultimate destination that caters to all interests. So why not pack your bags and head to this dreamy island paradise for an experience of a lifetime that promises fun, relaxation, and an opportunity to improve your English language skills. Aloha!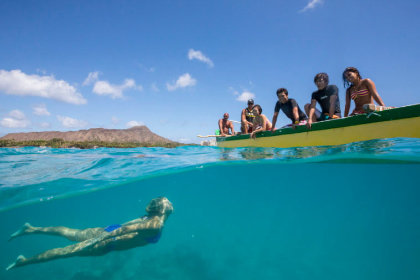 Global Village English Centres - GV Hawaii

Global Village Hawaii is a Cambridge test centre that offers an exceptional English language learning experience. Students receive personalized attention in small class sizes, with a strict English-only policy to maximize language proficiency. The school's ocean-view classrooms provide an immersive and inspiring setting for language learning.
GV Hawaii is more than just a language school – it's a vibrant community that welcomes students from all over the world. Accommodation options and fun activities like surfing, hula, and ukulele complement the language learning experience. The friendly and experienced staff are dedicated to helping students achieve their language goals while creating unforgettable memories. With a focus on developing practical language skills and engaging with the local community and culture, Global Village Hawaii is the perfect place to enhance your English language skills in a supportive and immersive environment.
WHERE IS IT?
Ala Moana, Honolulu
1 minute walking to Ala Moana Shopping Center, Walmart, Target, bus stops.
5 minutes walking to Ala Moana Beach Park.
WHERE CAN I SLEEP ?
Homestay: single room, full board/half board/roomstay (average 60 minutes commuting time by bus)
Apartments: private, air-conditioned rooms with kitchenette and private bathroom (20 minutes commuting time by bus)
Dormitories: single/double room, shared kitchen and bathroom (10-20 minutes commuting time by bus)
WHAT CAN I STUDY ?
General English Program (16, 20, 25 lessons per week)
Cambridge FCE Preparation
Cambridge CAE Preparation
Cambridge Teen Learners of English
Cambridge Young Learners of English
Parent & Child/Teen
Academic Year Program
Semester Gap Program
English + Surfing/Hula/Ukulele/Yoga/Fitness
Study Tours
English Pro
Private/Semi-Private lessons
GOOD TO KNOW..
Max class size: 16 students in a class
Average class size: 10-11 students in a class
Average Age: 25 years old for adult programs
Minimum Age: 16 years old for adult programs (7 years old for summer junior programs)
Lessons are 50 minutes
7 classrooms with ocean views
1 student lounge with wide screen TV
Student laptops and free Wi-Fi
Airport transfer
Hawaii's only Cambridge test center
15 faculty and 9 staff
Bakery downstairs, lots of restaurants and cafes within walking distance
Activities
Surfing
Skydiving
Hula
Ukulele
Yoga
Sunset Picnic
Shark Cage Dive
Dolphin Excursion
Catamaran Sail
North Shore Tours
Polynesian Cultural Center
…and more!
The Language House likes
The personalised and friendly approach, stunning location with plenty to visit and an English-only policy in the classrooms and throughout the school, ensuring an enjoyable full-immersion experience !