Nelson is the sunniest city in New Zealand. It's a great little city. It's safe, friendly and there's always something happening. New Zealanders (Kiwis) rate Nelson as a top city for lifestyle, education and seaside activities. It is a community with heart and a sense of arts, music and fun. Nelson is a great city for walking, cycling, swimming, sailing and mountain biking. Nelsonians love to be outdoors! There are walking tracks around the hills and along the river. Kite surfers and stand-up paddle boarders are in action every day on Tahunanui Beach. Nelson is regarded as one of the best places to mountain bike in the world. For something less physical, you can relax in the 6-screen cinema, watch some live theatre, visit the museum or listen to a band in one of the pubs. Chat to the friendly locals and sample fresh local produce such as seafood, olives, wine, and craft beers. Life in Nelson is interesting and lively, without big city hassles. You can walk and cycle everywhere.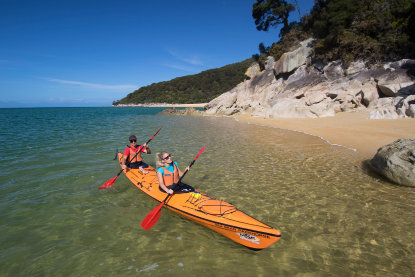 Nelson English Centre
Nelson English Centre is a friendly and relaxed English school in the sunny city of Nelson on the South Island. Nelson offers the perfect balance of a lively seaside town and access to magnificent nature. The school moved into new, state-of-the-art premises in 2017. It was established 20 years ago and is a member of the respected International Association of Language Centres (IALC). The school is locally owned.
WHERE IS IT?
The Nelson region offers beaches, mountains, and lots of interesting Kiwis to meet. Nelson is at the top of the South Island of New Zealand and surrounded by three national parks. Students can easily explore the national parks, wild coastal bays and beaches and even go whale watching.
Nelson is an excellent base to explore the South Island. Many students travel the popular South island loop from Nelson to Queenstown to Christchurch and back to Nelson.
WHERE CAN I SLEEP?
Homestay: Most homestays are about 10 - 40 mins walk/bike from school
Alternative Accommodation: Backpackers, Hamden House and Student flats
WHAT CAN I STUDY?
General English Levels from beginner to advanced.
Cambridge English exam preparation FCE and CAE
Counselling and preparation for other international English examinations such as IELTS and TOEIC.
GOOD TO KNOW..
Max class size: 14 students for General English (12 students for FCE and CAE)
Average class size: 9-11 students
School capacity: approx. 130 Students
Average Age: 23
General English Courses: 23 or 15 hours per week (full-time or part-time)
Lessons throughout the day vary in length
12 classrooms
Academic support and guidance
Student computers and free Wi-Fi
Student kitchen
Student common room
Visa advice
Work-STUDY
Nelson English Centre is an NZQA Category 1 school. If you study for 14 or more weeks you can work for up to 20 hours a week. There are quite a few jobs available in the Nelson region.
Activities
Regular weekend/evening activities.
Free fishing
Poker
Pub night
Free yoga
Free ukulele lessons
International Food Day
Skydiving
Kayaking
Sailing
Sports, such as frisbee, football and rugby
The Language House likes
The Nelson English Centre has a very friendly and dynamic team. It's a great place to make friends! Nelson is a small, relaxed city in the sun. Beach, islands, mountains, kite surfing and mountain biking, and of course a superb school. What are you waiting for?