Apprendre. Perfectionner. Maîtriser.
Google rating: 5 stars ***** (60 Google reviews) Read more
Abonnez-vous à notre blog (en anglais) publié par Le Temps - Et Maintenant in English
Is English your cup of tea? Vous manquez de confiance en anglais? Nous vous aiderons à trouver votre voix et à développer un anglais courant, confiant et sans stress.
Améliorez vos compétences en communication en anglais dans un environnement confortable et sûr. Nous savons que vous devez être détendu et surtout vous sentir en sécurité pour progresser dans votre formation en anglais. Nous proposons des cours personnalisés qui se concentrent sur vos besoins linguistiques.
Nos cours sont stimulants, intensifs, agréables et enrichissants. Le café et le thé sont bons aussi.
Notre école d'anglais propose trois types de formation.

1. Salle de classe virtuelle (cours en ligne) privé et petit groupe, maximum deux étudiants
Cours personnalisés à domicile ou bureau. Avec votre formateur en Zoom ou Skype
+ votre plateforme en ligne personnalisée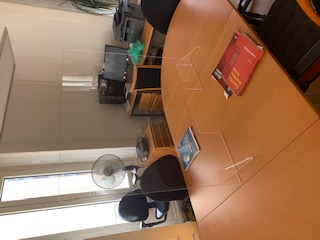 Nos salles de formation à Genève avec écrans en plexiglas
2. Cours en face à face (dans notre école) privé et semi-privé, maximum deux étudiantes
Dans nos grandes salles de formation de la rue du Stand - avec des écrans en plexiglas entre l'enseignant et l'élève
+ votre plateforme en ligne personnalisée

3. Cours en entreprise (dans votre entreprise) privé et en petit groupe, maximum 3
+ votre plateforme en ligne personnalisée
Contactez nous pour un entretien, un test de niveau et un plan académique. Ligne direct: +41 22 321 52 63 ou par email.

Commentaires (cours d'anglais à Genève):
'I had a great learning experience with Sian and The Language House. We started with individual lessons at my office and then, due to COVID 19, we moved to online lessons using Zoom. This solution enabled me to work wherever and whenever I wanted, therefore I continued to make good progress. Furthermore, the app and other digital tools provided by The Language House are cost effective which is interesting during this demanding period. Being accompanied with a teacher like Sian helped me to achieve progress in areas which would never have improved if I had continued to study alone. She also maintains your motivation throughout your entire programme. I would warmly recommend her and the Language House.'
- Sébastien Gavard innovation co-ordinator Boninchi SA
'I really enjoy my sessions with The Language House. It is not about only learning English. It's about feeling at ease, confident, using idioms at the right time and enjoy another language without overthinking. It is about thinking in English and not literally translating anymore. I am looking forward to starting my public speaking sessions with Neal! Do not hesitate to get the ball rolling. You'll be in a safe pair of hands.'
- Yolanda Bornand, Global Head of Marketing and Communications, Zedra, Geneva
'I really enjoy my English lessons with The Language House. They are interesting, fun and lively and I get to work on my spoken English. I feel much more comfortable speaking English. I know I still make mistakes. But if I have to socialise in English or moderate a forum in English, I don't have the panic and stress I had before. I actually look forward to using my English when I have the opportunity.'
- Stéphane Benoit-Godet, Rédacteur en chef L'Illustré
'English lessons at lunchtime with my fantastic personal teacher and coach, help me to improve my English. In my daily business, I often need to speak English with my clients. My lunch lessons are much more interesting, motivating, instructive and funny than simple classroom lessons. It is real life and I can use the learned expressions immediately in my daily conversations. I am more fluent, confident and much more relaxed when I have a conversation with a client in English. This is the reason why I have decided to take another 10 lessons with my trainer. Long live The Language House!'
- Judith Hilfiker, directeur-adjoint, Julius Baer
'I never imagined when we started that I would become fluent in English and that I could manage meetings and video conferences in English and follow English language films. It's fantastic.'
- Bertrand Pasche Sales Director Technew SA Geneva
'I am a training manager at Caterpillar and my objective is to improve my speaking and writing skills. I am learning a lot with The Language House and I am really enjoying my course. I am impressed by the professionalism, kindness and the organization of my teacher who implemented online lessons due to the coronavirus restriction. Many thanks. I highly recommend my trainer Sian and The Language House!'
- Yoann, Caterpillar Geneva
Vous pouvez améliorer votre anglais des manières suivantes:
Communiquer avec plus de confiance et de fluidité
Comprendre plus et être mieux compris
Parlez de vous et de votre travail
Utilisez le téléphone plus efficacement
Effectuer des présentations plus claires et meilleures
Améliorer votre compréhension de la grammaire
Obtenir le score IELTS pour accéder à votre cursus universitaire préféré
Réussir à l'examen Cambridge CAE
Soyez plus détendu à propos de votre voyage à l'étranger
Négocier plus avec confiance en anglais
Soyez plus à l'aise avec les expressions idiomatiques
Obtenez de meilleurs résultats de vos « business lunch »
Améliorer vos compétences en anglais académique pour l'université
Écrire des courriels, des rapports ou des articles plus clairs et de meilleure qualité
Poser et répondre aux questions avec subtilité et nuance
Participer plus efficacement aux réunions et discussions
Développez votre vocabulaire général, académique ou professionnel
Socialiser et réseauter avec plus de confiance
Travailler avec succès dans un environnement interculturel
Apprendre l'anglais à Genève
Notre cours:
Nous proposons une grande variété de cours privés et en petits groupes (en savoir plus dans la colonne de droite de cette page):

Anglais professionnel
Anglais général et professionnel
Préparation à l'examen IELTS
Préparation aux examens de Cambridge B2, C1 et C2
Les autres cours comprennent:
Anglais pour les professionnels de la santé
Écrivain mieux en anglais
Anglais pour l'industrie hôtelière
Anglais pour les journalistes
Préparation aux entretiens d'embauche
Anglais social et conversation
Nouveaux cours pour professionnels 2021:
High Impact Presentations
–
read morePublic Speaking
-
read more
Leçons d'anglais adaptés à vos besoins. Anglais pratique, de débutant à niveaux avancés. Communiquer en toute confiance. Cours vivants et intensifs. Contactez-nous pour une évaluation gratuite et un plan académique.
Nos cours d'anglais à Genève pour adultes sont stimulants et enrichissants. Développez des compétences de communication que vous pouvez utiliser immédiatement dans votre vie, votre travail, vos études et vos voyages. Anglais des affaires, anglais pour la vie, anglais pour les entreprises, anglais pour examens; ce sont nos spécialités. Vos leçons seront adaptées à vos besoins. Nous avons donné des cours dans notre école d'anglais à Genève depuis plus de 15 ans, la plupart du temps dans des leçons privées.

Nos clients viennent de tous horizons: avocats, banquiers, psychologues, sages-femmes, comptables, fonctionnaires, défenseurs des droits de l'homme, secrétaires et assistants personnels, universitaires, professeurs d'anglais dans les écoles suisses, dirigeants d'entreprises, étudiants, entrepreneurs, restaurateurs, gestionnaires immobiliers, journalistes, commerçants et personnel informatique. Lisez ce que nos clients disent.
Où est The Language House?
Nos bureaux sont situés au 35 rue du Stand, presque en face du parking de la Tribune de Genève. À deux minutes à pied de l'arrêt de tram et de bus « Stand ».
À quelle heure êtes-vous libre de vos leçons?
Les cours durent toute la journée. Certains clients commencent à 07h30. Les déjeuners sont populaires. La dernière leçon de la journée est généralement de 17h30 à 19h00. Nous ferons de notre mieux pour nous adapter à votre emploi du temps.
Combien de leçons ai-je besoin?
Difficile de répondre. Venez à nos bureaux pour un test gratuit et une évaluation, un plan académique et un devis. Vous pouvez étudier une fois par semaine ou quatre fois par semaine. Les leçons sont adaptées à vos objectifs et à votre budget.
L'apprentissage mixte (blended learning) est-il une option?
Nous proposons des solutions d'apprentissage en ligne en complément de nos cours en face à face. Ces ressources en ligne sont liées au travail en classe et soigneusement gérées par nos professeurs, afin que vous puissiez maximiser votre potentiel. Lire la suite
Vous aurez plus qu'assez de devoirs. On promet.
Qui est la meilleure personne à qui parler?
Contactez notre directeur Garry Littman ou notre directrice de la formation Sian Tobin.
Email
Formulaire de contact
Téléphone: +41 22 321 52 63
Quelques cours vous trouvez dans notre école d'anglais à Genève: